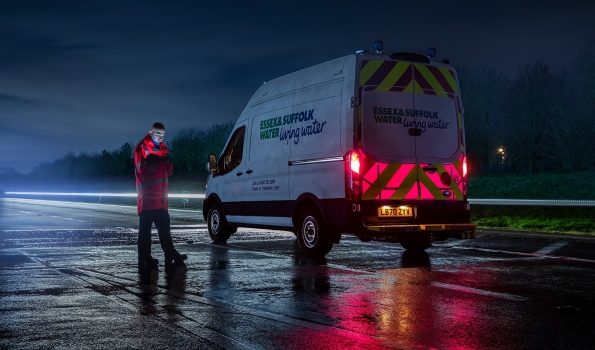 Ford has developed new high-visibility panels for the Transit and Transit Custom, which provide additional safety for roadside workers.
The new panels do not rely on other light sources to be clearly visible in the dark, they are illuminated by electricity passing through a thin layer of phosphorus gas – technology already used in aeroplane cockpits and on screens for medical and military equipment.
Many roadside workers, such as those repairing cars, fixing potholes, or maintaining gas and water supplies operate in high-risk environments and the commonly used standard reflective panels rely on the headlights of other vehicles for illumination. As a result, these panels can be less effective when approached from around a bend.
"Roadside working is a necessary and sometimes dangerous part of the job for many of our customers", said Simon Robinson, chief program engineer, Special Vehicle Engineering, Ford of Europe. "We want to ensure that what is often essential work can be carried out as safely and effectively as possible. Creating panels that can be illuminated without having to rely on other sources of light was literally a 'light bulb' moment."
Ford trialled its panels in collaboration with Northumbrian Water Group, enabling engineers to monitor their effectiveness in real-world scenarios and to gauge the benefits of panels that light up – even when other drivers neglect to activate their headlights. Now Northumbrian Water Group, which includes Essex & Suffolk Water, are the first commercial users.
"I'm delighted to see an idea that stemmed from our drivers working in partnership with Ford's product innovation team come to life", said Kate Wilson, transport manager, Northumbrian Water Group. "It will improve safety not only in our sector, but in future fleets across the world, and I know that it will make our teams who work in dangerous roadside environments feel safer and much more visible to our customers."
You can view the Ford Transit range of Contract Hire and Leasing Offers and Deals at Dynamic Van Leasing here
To discuss any aspect of Van Leasing please contact the Dynamic team on 01342 710400 or email us at sales@dynamic-van-leasing.co.uk
FORD IMPROVES ROADSIDE WORKER SAFETY WITH ILLUMINATED VAN PANELS