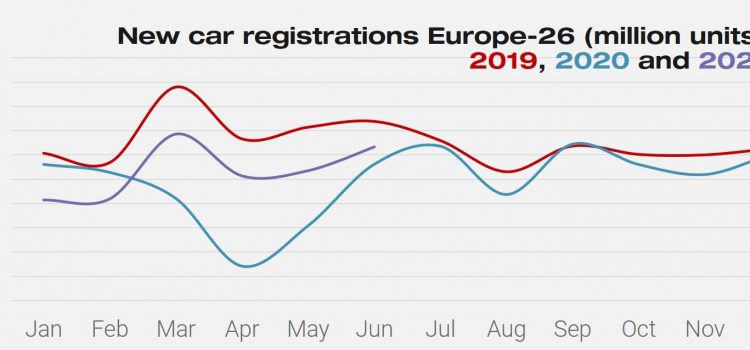 In June 2021, 1,268,683 new passenger cars were registered across Europe – an increase of 13% when compared with June 2020. Despite this increase, the market's rate of recovery has slowed substantially relative to the growth recorded between March and May of this year as the ongoing impact of the pandemic continues to suppress sales momentum
Low emissions cars (BEV and PHEV) continued to perform well, recording a new record total market share of 18.5% – up from 8.2% in June 2020. Registrations of BEVs totaled 126,000 units during the month, ahead of the 104,000 registered PHEV units. Fiat, Tesla, Skoda, Volkswagen and Ford gained the largest market share in the BEV market while Cupra, Jeep, Volkswagen, Renault and Seat posted the highest market share gains in the PHEV market.
Demand has been growing steadily across Europe, but significant increases in market share were posted in Norway (+24 points), Sweden (+24 points), Denmark (+21 points), Ireland (+17 points) and Germany (+15 points). In contrast, the market share of these vehicles increased by only 0.7 points in Slovakia, 1.4 points in Romania and 1.6 points in Poland.
In the model rankings, the Volkswagen Golf was the most popular new car amongst consumers with 27,247 units, equating to a 2.15% market share. Despite the increase of 12% from June 2020, volume fell by 27% when compared with June 2019 – when its market share was at 2.52%. The Golf was followed by the Tesla Model 3, which registered 25,697 units taking the year-to-date total to 66,350 units, making it the most popular electric vehicle in Europe, and the 25th best-selling model in the general rankings through to June. The Model 3 was the top-seller in Austria, Norway, Switzerland and the UK, and hit the top 10 in Denmark, France, Germany, Ireland, Luxembourg and Sweden.
TESLA MODEL 3 THE 2nd BEST SELLING CAR IN EUROPE IN JUNE