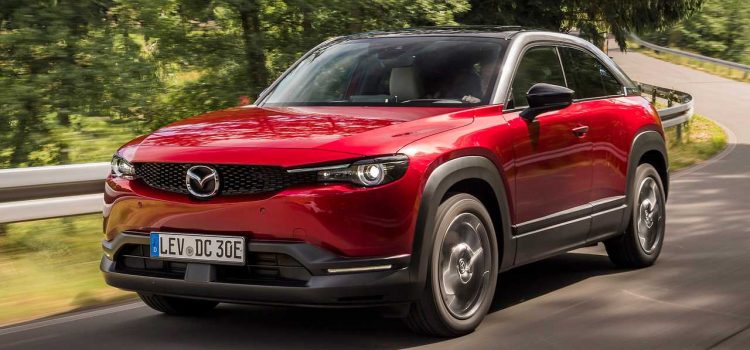 The all-electric Mazda MX-30 has been awarded the maximum five-star rating by Euro NCAP in its latest series of tests with 91% and 87% scores in its respective adult and child occupancy categories. The 91% rating is the best adult occupant protection result yet registered amongst all vehicles tested in the latest 2020 Euro NCAP tests.
The MX-30 is the first Mazda to achieve an overall five-star rating under the new more stringent 2020 Euro NCAP crashworthiness rating regime. The 2020 testing introduces new tests to enhance assessment of occupant protection and post-crash protection, plus promote the latest in advanced driver assistance active safety technology.
A stand out design element of the all-electric small family car is its Freestyle doors, a heritage link to the 2003 Mazda RX-8. This, however, doesn't adversely affect safety. In fact, the "analysis of the deformed crush element from the offset frontal test indicated that the MX-30 structure did not pose a high risk to the occupants of a colliding vehicle in a frontal offset impact," testers said. "In both the side barrier test – representing a collision by another vehicle, and the more severe side pole impact, protection of all critical body areas was good and the car scored maximum points for these two tests".
Following the March 2021 arrival of the 500 First Edition models, the full UK MX-30 range will arrive in UK dealerships in April 2021. Available across three generously equipped model grades – SE-L Lux, Sport Lux and GT Sport Tech, standard equipment on all UK MX-30s includes LED headlights with daytime running lights, reversing camera, Mazda Radar Cruise Control with Intelligent Speed Assist, navigation and head-up display. Each MX-30 comes as standard with a Type 2 AC charging cable and a socket for 50kW rapid charging, which can in just 36 minutes deliver up to 80 per cent battery charge.
The MX-30 will be the first all-electric Mazda and the first customers to order one of the First Edition models will qualify for a free home charging installation which further adds to the excellent value of this limited-edition model.
You can view the Mazda range of Contract Hire and Leasing Offers and Deals at Dynamic Vehicle Leasing here
To discuss any aspect of the Mazda range in more detail please contact the Dynamic team on 01342 710400 or email us at sales@dynamic-car-leasing.co.uk
5-STAR N-CAP SAFETY RATING FOR ELECTRIC MAZDA MX-30