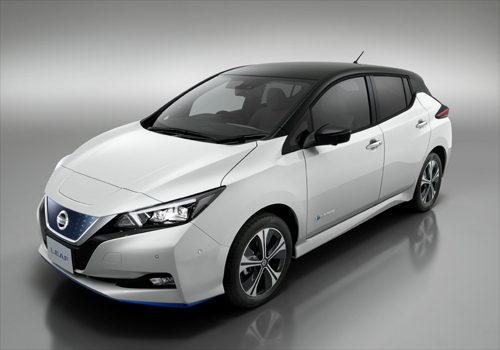 Nissan has announced the expansion of the popular LEAF electric vehicle (EV) range with the addition of two versions of the LEAF 3.ZERO.  The new LEAF was the highest selling EV in Europe in 2018 and it remains the world's best-selling electric vehicle, with more than 380,000 units sold globally since the original car launched in 2010.
The Nissan LEAF 3.ZERO e+ Limited Edition is limited to only 5,000 units in the UK and features a higher output capable of delivering 160 kW (217 PS) of power; 340Nm of torque; and a longer driving range expected to be up to 239 miles* from a single charge of the 62 kWh capacity battery.  This equates to a 40% range increase over the 40 kWh battery LEAF 3.ZERO and translates into more than 62 miles additional range for a comparable usage.  Acceleration from 50mph to 75mph is nearly 13% quicker and an overall top speed of 97 mph is about 10% higher than the 40kWh version.
This is achieved through the introduction of a new new higher-power battery which contains 288 cells (vs the 192 cells found in the 40 kWh equivalent) which in a triumph of design and engineering has been accommodated in a battery virtually identical in soze to the 40kWh one.
The LEAF 3.ZERO models will also feature both e-Pedal and ProPILOT, Intelligent Driving technologies that are transforming the driving experience.
The e-Pedal is a new driving sensation for many, allowing the driver to start, accelerate, decelerate and stop using only the accelerator pedal. This delivers a seamless, smooth drive and maximum control to the driver through enhanced pedal feedback.
ProPILOT is an advanced driving assistance technology which works on single-lane highways. A 'hands-on, eyes-on' system, it allows the car to stop, restart and stay centred in its lane in higher-speed cruising and lower-speed congested traffic scenarios. The technology reduces driving stress and fatigue, enhancing driver confidence behind the wheel.
The new LEAFs will come with the same range-wide eight-year/100,000 mile Nissan warranty for enhanced driver peace of mind.
First deliveries of the new models in the UK are expected to start in early summer 2019 although for a full list of tax-efficient low-CO2 leasing stock and offers head over to Dynamic Car Leasing
Nissan announce additions to LEAF range of electric vehicles